The Landscape is About to Change!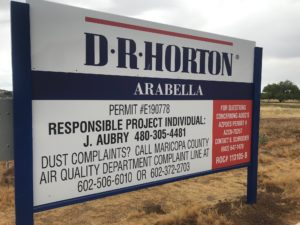 May 7, 2019
The first week of May, 2019 comes the first shovels hitting the ground on what will be the new Arabella Community! Construction teams are now setting up the worksite! (water tanks, port-o-johns, etc).
The first order of business is clearing the land to prepare for grading. According to the recently approved permits, before grading begins, the builder will be removing over 1,000 trees on the 120+ acre parcel. They will also keep and/or relocate a few hundred trees as feasible.
The intersection of 52nd Street and Bell rd, as well as Tatum and Grovers have remained largely the same for 20+ years, but the scenery will be changing momentarily!